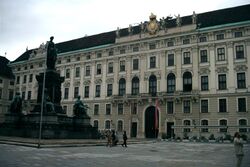 The Imperial Palace in Rome serves as the residence of the Roman Emperor and the Imperial Family. The expansive palace is located fifty kilometres north of the main city, within the Imperial Governance Precinct. The Imperial Palace sits opposite the Curia Augusta, the home of the Senate. The two massive constructs are separated by a large paved courtyard. The Imperial Palace, due to its sheer size and magnificence, is popularly recognised as a symbol of Roman imperial power.
Structure
Edit
The Palace consists of a huge complex with many courtyards and buildings. The total area of the Imperial Palace is approximately 3,310.32 hectares - the size of a large university campus.
Ad blocker interference detected!
Wikia is a free-to-use site that makes money from advertising. We have a modified experience for viewers using ad blockers

Wikia is not accessible if you've made further modifications. Remove the custom ad blocker rule(s) and the page will load as expected.