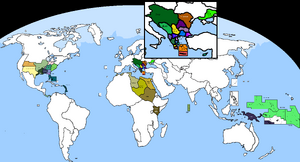 The
New Greek Empire
is divided into 29 Polies, each Polis varies in size, ranging in size from just a few thousand kilometres to over one million kilometres.
Bold polies are semi-autonomous. Bold italicized ones are fully autonomous.
Metropolitan Greece
Edit
Mediterranean and Europe
Edit
Main article: Colonization of the Americas
Following Roman colonization of North America and occasional clashes with many Natives, the New Greeks decided it would be wise to form alliances with the five civilized tribes, the Chitimacha, and the Apache, eventually incorporating them as an official part of New Greece.
Indian and Pacific Oceans
Edit
Former Territories
Edit
Ad blocker interference detected!
Wikia is a free-to-use site that makes money from advertising. We have a modified experience for viewers using ad blockers

Wikia is not accessible if you've made further modifications. Remove the custom ad blocker rule(s) and the page will load as expected.